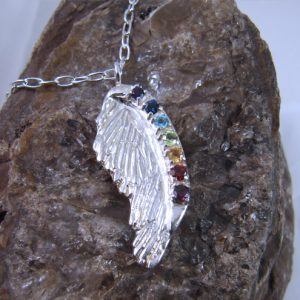 This Chakra Angel Wing would make a lovely gift for someone who loves all things to do with angels, rainbows and the chakras.
The Chakra Angel Wing by Lizzyanthus is made from  solid sterling silver.
Set with a rainbow of gemstones, the stones have been handpicked to represent the seven main Chakras as follows:
Crown > Amethyst
Third Eye > Iolite
Throat > Blue Topaz
Heart > Peridot
Solar Plexus > Citrine
Sacral > Orissa Garnet
Base > Red Pyrope
Supplied with a necklace, the Chakra Angel Wing pendant is one of our most popular designs to date. 
If you are looking for an alternative to our chakra wing, we also offer an angel wing pendant set with seven white cubic zirconias in our Folksy shop.