It's close to Wedding Season; and we're getting ready for a very special occasion of our own too. The 'Lizzy' half of Lizzyanthus is getting married, and with a spring wedding just around the corner, we've been inspired to create a few accessories of our own.
Considering our love of crystals, gemstones and sparkling jewellery, Lizzy wanted to incorporate some of these elements into her wedding; and so we have been busy designing bridal jewellery and other handmade accessories to complement the dress.
When it came to footwear, Lizzy had already fallen in love with pictures of crystal shoes, which she had seen in a bridal magazine.  However, we had a little misfortune trying to order a pair, so we decided to have a go ourselves, and these are the results:


How we made the Swarovski Crystal Bridal Shoes
We picked these lovely peep-toe shoes for this project. The ivory satin matches the dress, and the little platform is ideal for someone that's a little vertically challenged.
With us being jewellers, we thought we'd use some exquisite Swarovski Crystal Elements, rather than getting plastic rhinestones. In this way, the cut glass crystals would give the shoes a little extra sparkle and (hopefully) some gorgeous flashes of colour when they catch the light.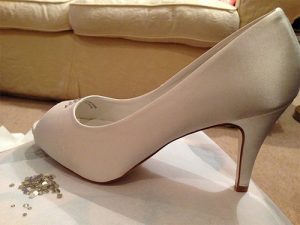 We set up a little workstation that was nicely portable, so we could transport the Cinderella Shoe project here and there.  Also, because we can be a tad clumsy, we only used a small handful of crystals at a time, because we didn't want to risk scattering the whole lot all over the floor!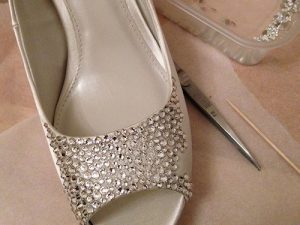 We started by randomly sticking the Swarovski Crystals onto the shoe, in nice neat blocks. The adhesive we chose was flexible enough that we could slide the crystals around until we were happy with their positioning, and by using different sized crystals, it helped minimise the gaps.
Even as we worked, we started to develop different techniques. We soon found it was easier to follow the lines of the shoe with the crystals, before filling in the middle. The whole effect was a lot tidier.
When finished, each shoe was covered in over 2000 Swarovski Crystal Elements.  It took a few days to complete the project as we needed a lot of ventilation to help with the glue fumes, but the effect is pretty stunning. 
Every so often, we keep catching the little flower girls turning off the lights and shining a torch on the crystal shoes, just to see them sparkle and create a disco ball effect. 🙂