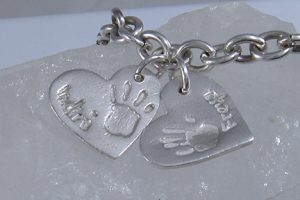 We are currently having fun experimenting with personalised hand print jewellery.
Here are a couple of heart shaped charms that Lizzy has made using her nieces' hand prints.
Handmade using fine silver, the charms are finished with the names of two precious little girls.
As we have had so much fun making these, we would love to offer hand print jewellery on our website.
It might be nice to create jewellery from children's artwork too!
Please let us know what you think.